Welcome to the EGMET website
This site has been financed by The Edna Grabham Memorial Education Trust
for Bath and Wells Association of Change Ringers members and for those further afield.
We hope that you will find the contents both interesting and helpful.
Edna Grabham
Born into a ringing family in Uxbridge Middlesex, bells played a large part in Edna's early life. She often found herself the only girl amongst a crowd of enthusiastic young ringers who enjoyed spending all their holidays cycling round the country ringing. Towers were selected at various intervals and, she said, "We would ride till our bottoms were sore, then ring till our hands were sore!"
Edna, who had rung with the best in London at St Paul's Cathedral, found satisfaction in more than just the enjoyment of ringing: her great love was to see people new to ringing learn a good technique and get a good grounding that would stand them in good stead wherever life took them. Whenever a group needed help getting youngsters, or newcomers, up and ringing, she would be there to support them.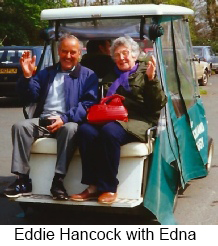 Later in her life she moved to Somerset, and became an active member of the Bath and Wells Ringing Association. In her retirement Edna became its Education Officer, helping to organize and run educational weekends for beginners, and those starting method ringing. She also encouraged experienced ringers to learn the skills of calling, and the duties associated with being a Tower Captain and Steeple Keeper.
In her will, she left £3000 to set up a Trust Fund to provide educational grants to help ringers develop their ringing and leadership skills, encouraging them to become better ringers, and share with others the joys of ringing and of playing a part in the world wide family of bell ringers.
The money was invested, and ever since then the Trustees have been giving small grants to young ringers wanting to go on courses and training events, and for several years the Fund has paid for the prizes for the Young Ringer of The Year Award.
At the 2013 Annual Meeting of the Trustees, it was suggested that we should use Edna's money in a more imaginative way, that would benefit more young people. We voted to pay for a barbeque at the Association Young Ringers' Striking Competition – hoping that the promise of a barbeque would encourage lots of people to come. It must have worked – there were lots of teams! We also voted to pay towards the coach that took the young ringers to York for the National Striking Competition.