Recruitment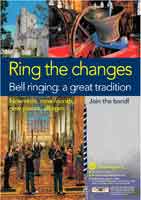 In order to keep a band of ringers going in your tower, you need a steady stream of learners. Sometimes you're lucky and someone comes and asks to learn to ring, but really the only way to find enough learners is to publicise what we do and demonstrate the attractions of being a ringer. Most people probably don't know that being a ringer means that you have the opportunity to ring in thousands of towers all over the world, to visit places that the general public never see, and to make friends from all walks of life.
Here you will find suggestions for recruiting people and posters that you can use to encourage people to come along. If you have already successfully attracted learners, please let us know how you did it, and send us copies of your posters and publicity material so that others can make use of them.
The poster pictured on the left here is obtainable from the Central Council Website - Click Here.