Chiming Machines
Gordon Rendell, from Montacute, has been tracking down Pegged Chiming Barrels and photographing them for us, On the whole, ringers don't even notice where there is one of these in a tower, It's a shame because they are quite fascinating.
If you know of the existence one that isn't included here, do please let us know so that we can ask permission to photograph it and include it.
The basic principle is the same as a musical box.

I first encountered a chiming machine at East Coker in Somerset at the age of nine. I lived at Hardington Mandeville, the next village, and went there to ring with my father on their practice night. In the ringing chamber was a photograph of the tower captain, Frank Foot, oiling this contraption. On showing interest, I was taken up to the next floor to see this apparatus, consisting of wood, weights and wire and had a demonstration of how the thing worked. It was extremely noisy, almost drowning the noise of the bells above.
It was some time before I discovered another at Dunster, a much more modern and sophisticated exhibit that not only played one tune, but a different one for every day of the week. On this occasion it was not working as it had been removed to re-hang the bells and as it happened, we were the first people to ring on the new installation; so I had to wait until I was in the area next and found it restored and operative.
It's interesting to realise how many tunes one can play on just the eight notes of a major scale; at Yetminster, in Dorset, the National Anthem can be produced on just five.
Rob Walker was the Sherborne and Yetminster Town Crier and he had just moved into a cottage in Yetminster in close proximity to the tower and after an exhausting day moving in was just about to fall into bed at midnight, when God Save the Queen banged out above his head.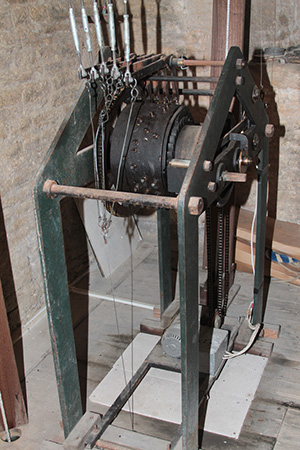 "Good God" he said (or something like it). "Do I have to stand to attention every night before I go to bed ?"
After he had told me this I included a mention in one of the verses of a poem I wrote about him.
On Saturday nights when I've been out to share a jug of liquor
I takes my bell and rings like hell until I wakes the vicar.
But he laughs last, 'cos 'taint no fun, when your guts is full of wine,
And the clock in the church plays God Save the Queen at Twelve, Three, Six and Nine.
The models made by the Bilbie family had, in typically Victorian style, a bit more panache in that they shaped the spokes in the drum, rather than just leave them as plain square-edged pieces of wood, as the one at Mere in Wiltshire. The Bilbie models are at East Coker and Beaminster. I had rung for seventy plus years completely unaware there was a chiming apparatus above my head. They also had, of which I was aware, a so-called Siege apparatus consisting of a set of small bells in the ringing chamber that could be called into action after silencing the bells and therefore rung at any time with no disturbance outside. Dorchester also has a set of these.
At Holsworthy in Devon the chiming machine has the added sophistication that it turns itself off at night to appease the neighbours.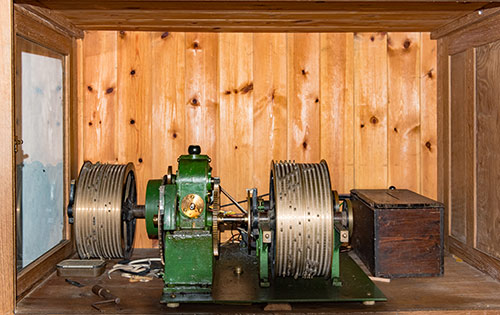 Now Holsworthy's is a fantastic exhibit made by Gillett and Johnson of Croydon, incorporating an electro-pneumatic system. A cupboard containing the sender apparatus and a choice of thirteen tunes on separate barrels is located at the back of the church. First select your tune and then switch on, or the clock does it automatically after it has struck the hour, which starts a compressor up in the clock room. When sufficient pressure has been built up, the drum rotates and the pins thereon press micro-switches which send a signal to a box of tricks upstairs. This opens a valve, allowing compressed air to operate a piston which is connected by a linkage to the chiming hammer in the belfry. Although a most elaborate and technical system, it has been running trouble-free since it's installation in 1949.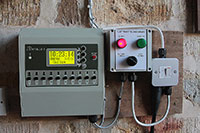 Having been told by the vicar at Beaminster that we must go to Netherbury to see the newly refurbished chiming apparatus there, we were rather disappointed, when shown to the clock room to just find an old redundant clock. The chiming machine was in the ringing chamber; a tin box, about the size of a biscuit tin sent about ten different tunes to solenoid operated chiming hammers. Progress. I gather that the technology now exists where the tower captain of, say York Minster, could lie in bed on a Sunday morning and dial up a quarter peal of Stedman Cinques, press Start, and go back to sleep.