Annie's Ride
http://www.appealforabell.com

Annie's Ride was one of the most brilliant and successful events to have taken place in our Taunton ringing community within living memory. As a fund raising enterprise it exceeded everyone's wildest dreams by a margin. Interacting as a social, inclusive and community related activity it brought people together from all walks of life. In instances it introduced ringing to really elderly, even wheel chair bound elder statesmen, children, some as young as five, and to the disabled and damaged in our society. The joy it brought to those involved, experiencing some of the delights, and fears, of ringing was worth far more than the £22,000+ so far raised. This will be another lasting legacy, almost exceeding the monetary value of the Taunton Branch's bell that will be purchased and included in the restoration of the bells of St Mary Magdalene, Taunton. In view of the huge amount raised, it has been decided that it will be the 11th bell, with all it's fixtures and fittings, which will be the one to be paid for and inscribed with the Taunton Branch's name. The concept was such a simple idea. The logistics and execution were an absolute nightmare.
Annie would ride her horse to all of the 51 towers in our Taunton branch of the Bath & Wells Diocese and ring at every one. Her sister in law, Jo, would ride her bike alongside, for company as much as anything, but she would also be taught to ring by our branch ringing master, Jill, over the roughly 3 weeks this endeavour would take. Along highways and bye-ways and bridle paths, the timing and the route was painstakingly planned. Disaster struck however, just before the planned start date, when Annie's horse had a fall. Starting with a lame horse was out of the question, so a desperate plea for the loan of a horse was sent our on Facebook.  To everyone's amazement, a reply came from a lady in Cornwall, who offered her horse, Gypsy.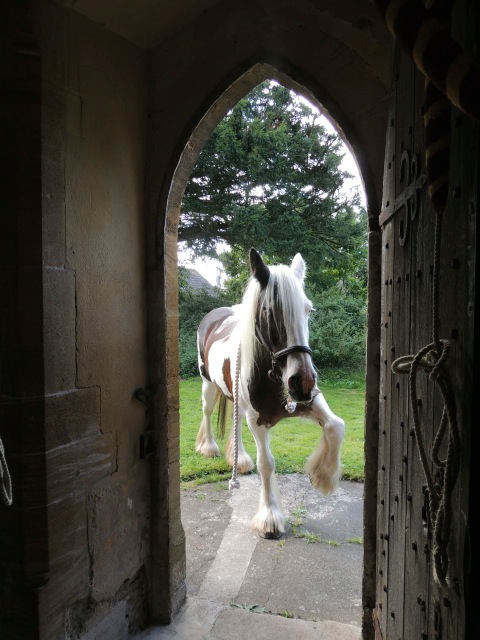 The trek began on August 3rd, 2014.  For the participants there were many adventures. Fortune and misfortune in equal measure, such as the taking of a 'shower' in the absolute monsoon downpour while trekking from Bathealton (4, 7cwt) to Milverton (8, 17cwt) in an electric storm that destroyed one local member's computer and broadband. The equine suppliers throughout the Taunton Deane were rejoicing for the whole three weeks at the number of horseshoes and shoe studs being used and replaced, wholly exhausting the Bridgwater stocks at one point. We had an absolute gem in Annie's brilliant on-call farrier.
Regular car, lorry and bus road-users in the area were, by and large, very considerate of the monumental tail-backs, especially on the A 38 Wellington Road, the Norton to Hillcommon Road, and on the occasions through Taunton town itself. Exceptions occurred and we all have those moments to savour and reflect upon when being told by passing motorists to re-consider our birthright. Every tower in the branch, with any sort of ringable bell was visited, on horseback by Annie, on her bicycle by Jo, walking alongside by the minders, and in the comfort of our cars by the rest of us. Annie rang something at all of them and Jo learned to ring at all of them, while her horse 'Gypsy' grazed peacefully in their grounds. Many churchyards will see gloriously improved rose-beds next year, a matter the organisers took most seriously. Even venues like the unringable Cothelstone (unringable 6, 18cwt) had a single rope re-installed on the treble, just for the fun of it; was it? Ruishton unringable 6, 8cwt) with its hopelessly cracked tower, enabled those interested to experience an Ellacombe chime, with various suitable tunes played. Some towers were more endearing than others. Mixed fortune with the ringing attended the later towers such as Durston (5, 8cwt) with its infamous plain bearings and long draught, while serenity of ringing purpose and method was wholly fulfilling at the most memorable rings, such as Stawley (6, 8cwt). The finale ringing at St Mary's itself (12, 29cwt) was, in social services parlance, the customarily expected matter of dealing with 'challenging behaviour,' emphasising the pressing need for this complete restoration of the bells and ringing architecture within the tower, including the now very sadly missed and long silent carillon that used to ring out tunefully over Taunton town centre hourly.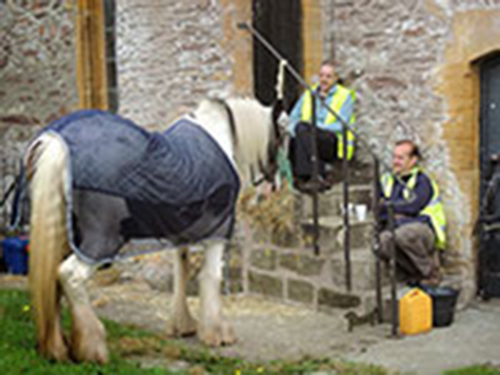 The support The Ride received throughout, at each and every tower and along the way, was absolutely amazing. Ringers turned out in numbers, or complete bands, Stoke St Mary (5, 6cwt), and some on horseback too as at Ashbrittle (6, 8cwt), also some from afar, thanks to Ringing World at Thornfalcon (5, 7cwt), and some with their dogs, to ring with the main participants, which was a real delight and immensely rewarding for the huge effort that had been put into getting this 'show on the road' in the first place. It is likely some 150 or so individual ringers across the branch supported their towers and the activities.
We all of us enjoyed coffee and biscuits or tea and cake at a majority of the towers, such was the generous hospitality, which further enhanced the fund as members and ringers present made 'fodder' contributions. Some local residents, as at Kittisford (4, 7cwt), unexpectedly brought tea and biscuits from their homes, while at other places, as with Stoke St Gregory (5, 17cwt), we were royally entertained afterwards to a full English farmhouse afternoon tea of raspberry jam sandwiches and cake, in the sunshine on the hillside lawn overlooking the now dry Somerset levels; please note all tourist visitors!  Another social highlight was being able to co-ordinate our activities with a wedding ring on a bright and sunny Friday afternoon at North Curry (8, 16cwt) joining in the celebration of the marriage of the son of a local ringer doctor; suitable refreshments were in liberal supply. We were emphatically told of the mutual fun and enhancement this added to the occasion and to everyone's day. After all, maybe not everyone wants a horse and a party in the churchyard at their wedding.
Finally, the reception at the Civic Reception was magnificent, as Annie and Gypsy, with entourage, rode triumphantly back into Church Square before St Mary Magdalene, Taunton, three weeks and two days after leaving. Cheers and loud prolonged applause greeted the procession. What a pity it was missed by the TV who were 'elsewhere,' but at least the Somerset Gazette did us proud with front page billing and an inside report. Around a couple of hundred people and principle sponsors ETS – Contego were present to give a rousing finale outside and, following, inside St Mary's, after a greeting from Taunton Mayor, councillor Dave Durdan, presentations were made to the main cast of players, Annie, Jo and Pearl, amidst St Mary's enthusiastic hospitality. As a backdrop, a large screened rolling video presentation played the myriad of images, contributed by many members, of the highs and lows of Annie's Ride.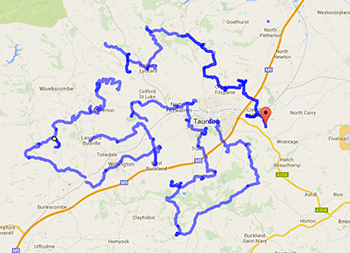 The last word must go to 'Gypsy.' Amazingly loaned to Annie for The Ride by Cherie Walker of Gunnislake, seen in the magenta checks talking to Jackie, this lovely skewbald mare was an absolute marvel throughout. Never bothered by traffic, never troubled by the terrain, she trod her way with a certainty of foot and determination for some 150 miles without falter or complaint, needing only a good spot to graze or a hay-basket on stopping and a nice bucket of 'pony nuts' in the evening. It was said by some, that towards the end she had come to associate a halt and the sound of bells with inevitable treats, such as carrots and apples, which ringers and others would bring along for her. Annie, reflecting on her character, says that being accustomed to drawing a gypsy caravan for many years she wasn't used to stopping without having brakes applied. This made road junctions tricky. That, and the multitude and frequency of re-shoeing or re-studding, simply added to the vagaries of the adventure. After all, what is life without its challenges?
Throughout The Ride the support from ringers was magnificent. That being the case the support for Annie and Gypsy by the farrier and by Jackie and Kelvin of Little Meadow Riding School near North Petherton was second to none.
In post-script, it would appear that several, maybe 5 or 6, potential new recruits have also turned up at various tower practices in the last week or two, mentioning having their curiosity kindled by Annie's Ride. The unexpected and hidden benefits of this event have been far-reaching, even life changing for some and will probably only be fully realised with the passage of time in the coming months.
A 45 minute DVD of photos with sound track from the whole route of Annie's Ride is now available for £5, the proceeds going to add to the final 'Appeal for a Bell' total. The video, compatible with most DVD and PVR players, features over 300 stills from every venue visited and much else from along the route, together with several short selected video clips. It is presented in a jewel case with an insert of production details. To be certain to obtain your souvenir copy, contact Keith Petersen on (01823) 270026 or at TauntonBranch.GCRep@bathwells.org