The Art Toolbox for Youth
A review by Helen Beaufoy, April, 2014
The Association of Ringing Teachers have recently produced a CD designed especially for people who are teaching learners.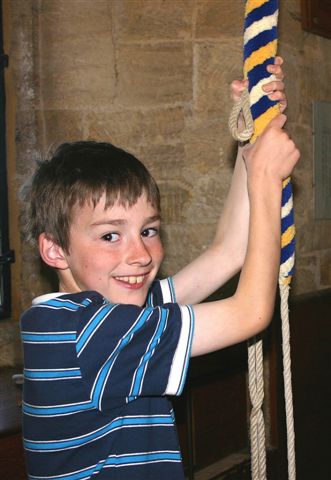 You don't get much for a fiver these days, but this disk provides real value for money.  Better still, if you are a member of ART you can have it absolutely free!!
There is so much on this disk, that to comment on it all would take several pages.  However, I have picked out the bits that appeal to me to talk about.
The first part of the disk is all about recruitment.  There are suggestions about suitable events that will attract young people (and older people too actually), and how to "sell" ringing to them.  Having got your recruits, there are ideas on how to keep them interested.  One suggestion that I agree with whole heartedly is that it's good to try to recruit family groups.  If you have a parent learning along with their child, it helps with transport, child protection, and attendance.  Family outings are less likely to conflict with ringing practice if Dad is keen to go ringing!

Information for parents of prospective recruits includes a paragraph headed, "What Ringing Can Do For Your Child".  I am sure that my parents didn't realise that ringing was going to improve my cognitive skills  or provide me with opportunities for travel when they sent me up the tower, in fact I'm sure they didn't have a  clue what they were letting me in for!  However, parents will, I'm sure, be more supportive and helpful if they know how much there is to be gained from being a ringer.

A very interesting section provides information about two "camps" that have taken place.  Initially I assumed that everyone had spent the week in a tent.  In fact though, these were actually activities that occupied the children from 9am until 4pm every day for a week.  What a good idea!  Parents would be glad to have the children cared for while they are at work, and the children would really get to know each other and their tutors.  Some serious progress could be made with ringing, and by the end of the week the kids will know whether it is for them or not.  There are warnings about the pitfalls, suggestions of how to cope with children who are less than enthusiastic and information about what worked and what didn't.

The ART Learning The Ropes Scheme is here – the syllabus, the record sheets, the certificates -everything you need to use the scheme.  The days of ordering stuff and waiting for it to arrive in the post are over.  Just print things off as you need them.

A lot of the information provided is relevant to instructors who are working with school groups.  There are risk assessments, lesson plans and permission forms and a host of other information for use in schools.  I'm not really in favour of turning ringing into a school subject as I think I only got hooked on ringing because it was so different to school, but I'm sure it will work for some people. 

Then there is a whole package of activities to use with the Tool Box, drawn from a variety of different sources.  There are loads of different quizzes and games, all designed to give the learner more knowledge.  My favourite is an idea for teaching a new method.  Make a set of cards with one lead of the method on each card.  Then play Happy Families, taking it in turns to pick up cards until you have all the leads of the method.  Place them out in order to make the whole plain course.  Brilliant!

Summing up then, this is a very useful collection of information, which should be read and then re-read from time to time by all those who teach learners.  Not a substitute for going on an ART course, it does however provide more information than you could possibly take in in one day.

The idea of it being on disk is that it can be updated from time to time.  Two things that I would like to see added would be firstly a mention of the fact that we do all this for the purpose of calling people to church – a fact that I think has been deliberately omitted, and secondly to point out that while we are bashing away trying to perfect our "Switch- a – Roo" etc, Mr Joe Public is having to put up with the racket.  He won't know it's just a practice – to him every bit of ringing is a performance that he is obliged to listen to, so perhaps a section on simulators would be helpful.
The ART Teaching Toolbox is available to buy at http://www.ringingteachers.co.uk/shop.