What could ART Module 2F or 2C do
for you and your band?
By Graham Nabb

People will take part in an activity when they are enjoying themselves, feel a valued part of the group, and feel they are achieving something they want to succeed at. How do we make our ringers feel such things? Do we know how to build such a rapport with our ringers? How much time do we spend trying to work these things out?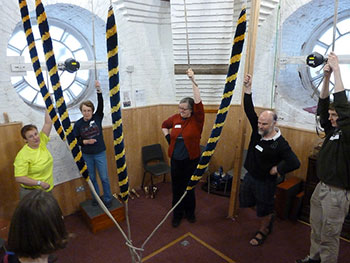 Module 2C – Teaching Elementary Change Ringing also explores the all-important teaching topics concerning building skills for change ringing progress. It goes on to provide the course delegates with loads of ideas of how to progress ringers to early method ringing. The skills to teach counting places, ropesight, learning first methods and other essential skills are approached in a simple step by step way.

Both Module 2F and Module 2C provide the teacher with the means of trying to understand the learning process from the ringer's view point, tuning in to really tick that particular individual's box. Both Modules also assist the teacher to understand the causes of people losing interest in the activity and how to avoid falling into these traps. These are skills which can then be put into action following the initial Day Course as you develop your teaching in order to achieve ART Accreditation at completion of each Module.

All ART Training Scheme Modules are based on university research which gives us an awareness of how to develop our judgement and perceptivity to refine our teaching to provide the maximum satisfaction to our ringers, which, in turn will lead to more enthusiasm, greater effort, improved performance and improved progression. All this will lead on to greater retention of ringers.
In short, the aim of ART Training Scheme Module 2F and Module 2C is to provide the teacher with a deeper understanding of the ringer's perspective alongside a set of tools to assist them to retain their ringers enabling them to provide strong bands in as many towers as possible.

Not to mention that the whole process – especially the initial Day Courses - encourages everyone to have a bit of fun and a few laughs!
Sign up for one now. There is nothing to lose and much to gain!  http://ringingteachers.org/participation/courses