Chard Chimes
by Ken Hallett and Chris Cox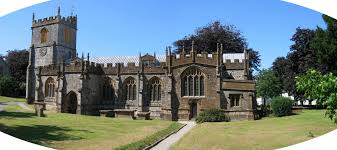 The tower at St Marys Chard contains a fine ring of 8 bells. In 1982 a dedicated ringing chamber was built within the tower, where previously, the bells had been rung from ground floor level.
The original back 6 bells were cast in 1790 by Thomas Bilbie of Cullompton and in 1882 the bells were augmented to a ring of 8 by the addition of 2 new trebles cast by John Warner & Sons. The tenor weighs in at just over 20cwt. and is tuned to the key of D.
In 1928, the bells were rehung and again later in 1982, but it was not until 2002 that the old unstable wooden frame was replaced by a new steel frame. At the same time the bells were retuned by the Whitechapel Bell Foundry and rehung by Bob Parker of Taunton. The bells were finally rededicated by the Archdeacon of Taunton, the Ven.John Read, on January 25th 2004.
The clock originally built by J Smith of Derby in 1886, chimes each quarter hour in a unique setting known as the 'Chard Chimes'. The chimes were first composed by George Wilkins, an organist at St Nicholas Church, Guildford, and installed in Holy Trinity Church, Guildford in or around 1848.  The tune was then subsequently copied elsewhere, including Chard and then became generally known as 'The Chard Chimes'.  Which seems a little hard on Holy Trinity, Guildford!