Chilton Cantelo Bells
by Gordon Rendell, December 2008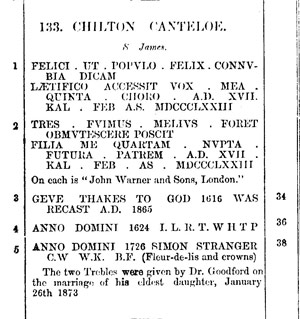 I was asked to give a report on the state of Chilton Cantelo Bells by the churchwarden, Knobby Kerton.  He, with help, had cleaned up the bell chamber and removed the dust and other debris to reveal a not unattractive dry and airy space with easy access.

An interesting ring of bells.  The Treble and Second were given by Dr. Goodford on the marriage of his eldest daughter on 26th January 1873. These were by Warners of London and the Third, originally a 1616 bell by Wiseman of Montacute was recast by  Warners in 1865.  The Fourth is a Purdue bell of 1624 and the Tenor a bell by William Knight, also of Closworth in 1726.  The fine oak frame for six is presumably by Warners and 1865 vintage.  Apart from the headstocks, the wheels and other fittings are in remarkably good condition. 
There is a move afoot to give them some attention, perhaps the Branch could help as they have done with North Perrott and Martock?  Rehung on roller bearings and fitted with new headstocks they would make a fine little ring.  However, they are and always will be a bit noisy.  Ideally they should be rung from a gallery leaving the present ringing chamber as a space to deaden the sound.  The icing on the cake would be to add the missing Treble.  If the adjoining school could be persuaded to take an interest it might be possible fro some the pupils to learn to ring. 
and by Helen Beaufoy, March, 2015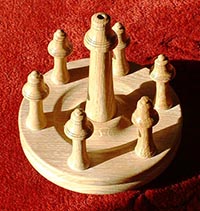 Chilton Cantelo bells are back in action.  This 10 cwt five has been unringable for some time, but the Bath and Wells Adviser recommended some tightening up and removal of rubbish, which Nobby, the Tower Captain dealt with, and Nicholson's came and attended to a few things too.
A Quarter peal was rung, then a Branch practice was held, by which time the ropes were in shreds – partly because they were so old and partly because they had been hung for many years on rusty old nails.  Five "new" ropes have now been fitted, cast offs from various other towers.  They all have non stretch tops, so hopefully the huge amount of shrinkage that was occurring when it rained will be avoided. 

South Petherton ringer, Roger Coe, has made a beautiful oak rope spider, so these ropes should last a lot longer. 
The Branch practice, was held on a very wet day, and the belfry was running with water and freezing cold, due to the lack of glass in the windows.  Worryingly, the light switch was dripping with water, so no one was very keen on touching it.  Now Nobby is planning to have new windows made which will open and shut, providing ventilation for the tower and comfort for the ringers.