The Church Bells of Somerset
by George Massey and David Bromwich
George Massey spent the best part of forty years collecting information on the bells in every tower in Somerset.  Although he had gathered enough information to publish his book, he was apparently reluctant to do so, because there is always more to discover.  Thus, when he died, he left the script in meticulous order, but unpublished.  His family were keen to see the work published, and so David Bromwich, our Librarian, agreed to take on the huge task.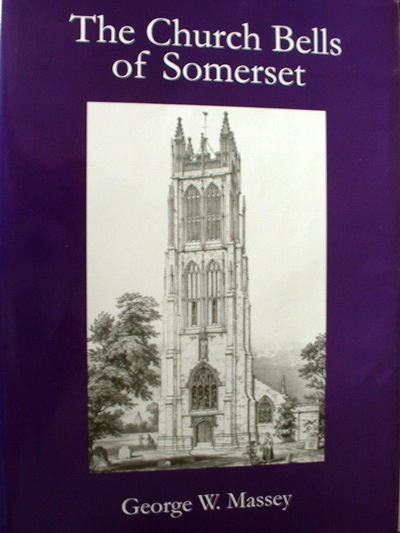 Some months later, those people who had paid for a copy of the book in advance were invited to collect their copies from St Mary's, Bridgwater, and to attend the Opening Ceremony for the Association's new Library.
Many ringers attended, and when the Vicar had welcomed them all, David Bromwich recounted a story from the book.  In the entry for Limington is the story of a peal that caused a lot of trouble. The ringing started at 5 am, and continued till nearly 9 o'clock.  The ringers then left the tower, but returned at one o'clock and started another peal.  John Parrett, tailor and water bailiff, complained that the standard of ringing was very poor and tried to grab the rope from the ringer of the third, which brought the peal to an abrupt end.  It is recorded that Walter Hopkins called John Parrett "a knave, a rogue, a rascal, a rag-maker and the scum of the world"!  Meanwhile, a little boy, John Yeelie, saw what was happening and ran to fetch the rector.  He came and ordered the ringers out of the church, but Hopkins shouted defiantly at the Rector and the ringing started again.  Consequently the Rector rode off on his horse to fetch the magistrate.  Unfortunately the end of the case is not recorded.
This beautifully bound book contains information about every tower with one or more bells.  There is also information on the Bellfounders in the county and a list of the bellhangers who worked here up till World War Two.  The founders' marks published in Ellacombe's "Church Bells of Somerset" have been reproduced, and there are pictures of churches, bells, frames and marks on bells.  Eight hundred pages in all!
Three hundred and fifty copies were printed, of which about two hundred and fifty have been sold already.  The remaining copies of this remarkable book can be ordered through bookshops, or obtained direct from the Somerset Archaeological and Natural History Society, c/o Somerset Heritage Centre, Brunel Way, Norton Fitzwarren, Taunton, TA2 6SF, telephone 01823 272429, e-mail office@sanhs.org, for £60 plus £8.50 packing & postage if incurred. The office is not staffed full-time, so do not call without prior arrangement to buy a copy.