Bells and Belfries of Dorset
by Christopher Dalton
Review by Chris Pickford
The tenth anniversary of the publication of the final volume of Christopher Dalton's magisterial study of The Bells and Belfries of Dorset seems to be an appropriate moment to remind ringers in Salisbury Diocese – and especially those who may have missed it first time round – of this important work. Issued in three parts, it was published between 2000 and 2005. In 2007 its author received the prestigious Dorset Archaeological Award for what the citation described as "the foremost amongst the surveys of bells in the counties of the British Isles" and "a work of national as well as local interest and importance". It is an assessment with which most readers would readily agree.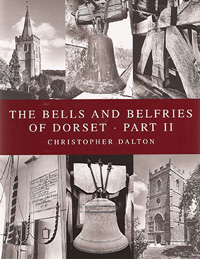 Needless to say the books are of very special interest to ringers. The descriptions of bells, frames and fittings are by no means dry. Christopher had a way of putting the focus on points of genuine interest, always with shrewd observation and often with wit. His photographs – and the books are profusely illustrated – are just wonderful. Nobody else has succeeded in photographing bells with such an eye for detail or in creating images of such high quality. The books are worth having just to browse through the pictures. They are a "must have" for anyone interested in what goes on above the ringing room or curious to know about bells and belfries of churches off the radar to most ringers.
Dorset has bells from the 11th- to the 21st-centuries. The county is especially rich in work by local founders cast between the 14th and 19th centuries. If you're just interested in your own parish or in a particular place, then you may find it helpful to know that Part 1 (with the general introduction) covers parishes A to G, Part 2 covers parishes H to Sp, and Part 3 has parishes St to Z and the chapters about bellfounders and bellhangers, with lists of their work
Sadly Christopher died in 2008 and never completed the companion volume on Wiltshire bells he was working on during his final illness. There are plans, however, to complete and publish this in due course. Work is in progress, although it is too early yet to give any indication as to when the book might appear.
Copies of the Dorset volumes are still available from Susan Dalton at Upper Court, Ullingswick, Hereford, HR1 3JQ. Single volumes cost £10 each (plus £4 postage and packing), while sets of all three volumes are £30 (plus £7 p&p). She prefers payment by cheque (payable, please, to Mrs S.M. Dalton).
If you haven't got a copy – or if you think your tower ought to have one – please do order. You'll be well rewarded by the pleasure in handling and perusing these fine books and the remarkable treasures of the belfry that they so beautifully portray.