The Egmet Quilt
by Helen Beaufoy

As you probably know by now, the EGMET exists to enable young ringers to progress. Although there is a fair bit of money in the fund, the Trustees have several things that they want to do, so I decided to raise small amounts from time to time to keep it topped up.  The Ilchester Branch had already raised some money from raffles and teas, and then I decided to organise the making of a quilt for a raffle. 
This quilt was made by fifteen ringers (or their wives) who are also quilters.  I sent each of them the instructions for making a bell block, six inches square.  When I had received all the blocks, I assembled them into the quilt you see here.  It is single bed size.  Blocks were made by Jenny Fox (Yeovil), Maureen Tofts (PiIton), Fran Harris, (Ash), Vicki Rowse (Fovant), Marie Hutchinson (North Perrott), Karen Robinson (Christchurch, New Zealand), Maureen Dilley (Pucklechurch Handbell Ringers), Barbara Nicol and Lesley Lindsay (East Coker), Susanna Harvey (Haselbury Plucknett), Mary Graham (Martock), Helen Jenkins (Evercreech), Teresa Humphrey (East Harptree), Sue Campbell (Kewstoke), and Helen Beaufoy (Seavington St Mary). 
It was raffled at the Eight Bell Competition on 28th September, 2013, at South Petherton, and £136 worth of tickets were sold.  It was won by one of the quilters, Fran Harris.
But that is not the end of the story.  Fran's friend, Marie, another quilter, had just moved to France to live, where she is not able to do any ringing of course.  Fran decided that the quilt would be the ideal present for Marie and she immediately parcelled it up and posted it to France.  Marie was so thrilled to have this reminder of her happy ringing days, that she sent a cheque for £50 to the EGMET!! 
Bell Block Instructions
This is a bell block that I made towards a quilt for the ringers at Christchurch, New Zealand, after the earthquake.  Our quilt used the same block, but was made up differently.   It is very easy, and doesn't need much fabric.
Please use dress weight COTTON fabric and iron it well first. The background should be plain cream or cream on cream.  The bell should be grey or brown plain or print (bell coloured!) Please wash dark fabrics first. The clapper could be a different colour, often they are blue or red.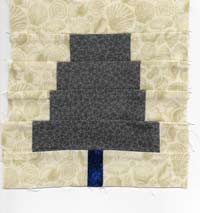 Make the horizontal strips first, then sew all the strips together.
Cut the strips very accurately:
                       Bell   fabric                     Background fabric                      
Row 1:            None                          6 ½" x 1 ½"
Row 2:         2 ¾" x 1 ½"               2 3/8" x 1 ½
Row 3:         3 ½" x 1 ½"               2"x 1½"
Row 4:         4" x 1½"                  1 ¾" x 1½ "
Row 5:         5" x 1½"                  1 ¼ " x 1½"
Row 6:         1" x 1 ½"     (Clapper)                    3 ¼ "x 1½"
Note – You will need to cut two background pieces for rows 2 – 6. 
Using the photo as a guide, set out your pieces to form the bell shape.  Sew each row together, using a ¼" seam. (The width of the seam is very important.)  Press each row as you go, pressing the seams towards the darker colour.
Now stitch the rows together.  Finger press each one in half to mark the centre, then match the centres so that your bell comes out the right shape.  Don't worry if the edges of the block aren't straight –the shape of the bell is more important, and I will trim all the blocks so they're the same.  Press towards the dark fabric.
That's all! 
This is the finished Quilt for Christchurch.  In spite of being made by about ninety different people, the finished result was superb.