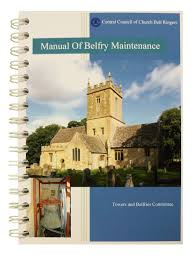 Manual of Belfry Maintenance
People sometimes ask "What does the Central Council do for me?" Here's a good example from the Towers & Belfries committee.
Roland Backhurst, of Bath and Wells, has been heavily involved in the production of the Handbook of Belfry Maintenance and this is now available.  Jan Wyatt (Bath and Wells Bookstall) is getting copies, or you can order direct from www.cccbr.org.uk/product-category/new/
As Robin Ship said in his review in The Ringing World on August 18th, every steeple keeper should have a copy, however experienced they consider themselves to be.