The Record Peal of Cambridge Maximus
at South Petherton
A personal recollection, by Martin Whiteley
A phone call from Dave Purnell in 2012 was the starting point for this peal. Dave, then the Tower Captain at South Petherton, was keen to have a long sponsored peal rung on the bells in order to raise money for charity. He had already held exploratory discussions with the Rector, PCC and his local ringers, so he felt confident that a 14-hour time slot could be arranged to allow something rather special to be rung. This kind of invitation doesn't come along every day and I was delighted to accept his offer, not least because South Petherton are an excellent ring of bells and there was an obvious enthusiasm locally to build on the previous long length (11,088 Yorkshire Maximus) rung there in 2004.
Deciding what to ring didn't take too long. Fourteen (or so) hours would allow about 21K changes to be rung and that didn't provide sufficient margin to beat the existing Bristol Maximus record (20,064 changes) convincingly. However, the record length of 16,368 Cambridge Maximus had not been challenged in nearly 50 years. No other method holds such a pivotal position in the history of 12-bell ringing and whilst its popularity has been somewhat eclipsed by Bristol in the last couple of decades, Cambridge still provides a stern test to ring well.
Selecting an enthusiastic band was not particularly difficult, but finding a free date was more problematic. It may seem obvious simply to choose a date 12 months in advance, but there is only so much unwavering commitment that anybody can give to an engagement so far in the future. Illness and emigration spoilt the plans on a couple of occasions and in the end I adopted a squad approach and booked 15 ringers to ensure that the sponsored peal would start. What disappointment, then, that the first attempt in October 2014 was lost after a few hours when a couple of bells inadvertently swapped. Anxious not to jeopardise the whole fund-raising effort, we started again almost immediately and rang a normal length peal that allowed the band to explore uncharted territory in the composition and salvage some pride. Fortunately, our sponsors generously recognised our seven-hour, stop-start effort by donating about £4K to local and national charities.
Within a few days it became obvious that this was unfinished business. South Petherton, an idyllic Somerset village with a strong sense of community involvement, had been taken by the idea that they were hosting something special and the invitation to return for another attempt was soon received. The whole band, too, were now convinced that the record length was achievable because the ringing environment had proved to be near perfect and we were comfortable with both the bells and the composition. So another date was fixed a year hence and I crossed my fingers and hoped that the band would remain fit and available. Pauline Champion and Ian Avery selflessly agreed to be reserves right up until the last moment, whilst Dave Purnell worked hard to keep the second attempt on the village radar. Even though this one was not going to be sponsored, it lacked nothing in terms of anticipation and local support.
As before, the band met on the Friday night and sorted out all the preliminaries in preparation for an early start the following morning. After a night of fitful rest and in the half light of dawn we were accompanied up the tower by the Revd Tom Handy, Tim Collins (Chief Umpire) and Dave Purnell. Tom delivered his final words of encouragement through prayer and then he and Dave left the Ringing Room; suddenly the waiting was over - this was it. The opening rounds were confident, Matt called us into changes and a metronomic pace was established immediately.
Dealing with the passage of time during a long peal is a highly individual affair but there's certainly a sense of being more preoccupied with the ringing itself because, with the end being so far off, clock-watching is futile. Inevitably there were milestones to be reached and the most obvious ones were to pass the point of failure in 2014 and then to overcome the long and complicated split-tenors section of the composition. Both passed uneventfully, with fabulous music experienced along the way. With that behind us the chunky blocks in the 90ET and ET90 positions were reassuringly familiar and, before long, the 65 near-miss at around 16K changes heralded the last lap.
The last few courses were a curious mixture of mild discomfort, heightened awareness and excitement. Everybody was mentally willing each other on and the sense of being part of a team poised for success was tangible. But then, just as the bells ran into rounds, a most remarkable thing happened. A wall of sound rose up the tower − cheering, clapping, yelling, sounds more reminiscent of a football match than a church − produced by nearly 200 supporters who had been watching the latter stages via a video link installed in the nave. Nor did it stop there; as each one of us tottered downstairs after the usual 10 minutes of post-peal faffing we were welcomed by yet more cheering and back-slapping, glasses of beer and a posse of photographers. What a reception and what a reminder that peal ringing can sometimes be so much more than a personal indulgence.
Bath & Wells Diocesan Association
South Petherton, SS Peter and Paul, Somerset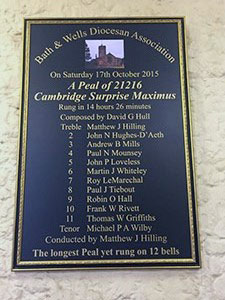 Umpires: Timothy F Collins, Michael E C Mears, P Wendy Campbell, Susan D Sparling, Pauline C Champion, Christopher R Field, Andrew J Palk & Philippa M Whittington
Peal report, by the Umpires
The band went into changes at 7.04am, finished at 9.30pm and the peal therefore took 14h 26m to ring. The average time per course was 21m 33s (which equated to a speed of 3h 26m for a normal length peal) and the speed was remarkably consistent throughout - no course was more than 8 seconds adrift from the average, and consecutive courses rarely varied by more than 3-4 seconds. It's difficult to recall any peal, of any length, that can be defined by such metronomic ringing. Matt conducted the peal with complete authority and, despite the plethora of calling positions, every call was issued and executed precisely. We checked every lead end and timed every course (and most leads) to the nearest second. The ringing was first class throughout, with the occasional trip either being been self-corrected or picked up quickly by Matt or others. Excerpts of the ringing can be heard on http://devonringers.org.uk/SouthPetherton21216Cambridge.mp3
Tim Collins (Chief Umpire) 7-8.30am
The ringing started in good style and all the band looked relaxed despite what was ahead of them. An excellent rhythm was set from the beginning.
Mike Mears 8.30-10am
All calls/lead ends were checked and were spot on in my session; just one small trip. I was impressed with how relaxed everyone seemed, but still on top of the job.
Wendy Campbell 10-11.30am
Some slight raggedness had crept in and the conductor urged for more consistency and for sharper ringing at the front of the change. The point at which the attempt failed last year passed smoothly with wry smiles all round.
Sue Sparling 11.30-1pm
In my session there were occasional minor trips, one of which required conductor intervention. Otherwise it was flawless ringing.
Pauline Champion 1-2.30pm
Roy's persistent fiddling with his watch was eventually rewarded when it flew off his wrist and landed in the middle of the Ringing Room! A rare mistake at 1.55pm was corrected after 5-6 changes, but generally the striking was very accurate. I will mention one ringer's striking here; the tenor was superbly well rung - but don't tell him that! It was noticeable that even after more than six hours' ringing everyone was looking fresh and alert, whilst the level of concentration devoted to the task was impressive, particularly on the part of the conductor.
Chris Field 2.30-4pm
There were no mistakes and no comments from the conductor during my entire spell - just a sense of complete focus from the entire band.
Andrew Palk 4-5.30pm
I witnessed two courses of very good ringing, with a third that was not quite as tidy. Minor method mistakes were instantly corrected and the principal excitement was provided by the feeding antics. Michael grazed his way through a feast and rang the tenor flawlessly single-handed whilst rehydrating, whilst Tom was not alone in scattering food, only some of which found the proper destination. After 10 hours of ringing the conductor exhorted 'Don't let tiredness get the better of us − we can do it'. Nobody doubted him.
Philippa Whittington 5.30-7pm
Most of the ringers were now flexing their legs as the cumulative effect of standing still for so long began to be felt, but the sense was that of real determination in this pivotal session. The third peal length was greeted with smiles all round and now the end was in sight. Just one mistake at 6.22pm was quickly corrected by the conductor.
Tim Collins 7-9.30pm
Returning for my second (and rather lengthy!) session it was remarkable to see that the band was still ringing very, very well and with no apparent tension or discomfort despite having rung the clock round. A slight error at 8.12pm was met with a rueful smile at this stage of the peal and the last few courses were rung very confidently and came into rounds with precision, accompanied by huge cheers from supporters in the church below.
The umpiring team have no hesitation in recommending that this peal is recognised as the new record length of Cambridge Maximus and the longest peal yet rung on twelve bells. It was a real privilege to be able to witness this feat and we congratulate you all.
Introducing the band, courtesy of PealBase and some unguarded comments!

Treble - Matt Hilling
Matt lives close to South Petherton, just down the road near Exeter, and his home tower is Exeter Cathedral. At the age of 39 he was one of the youngsters in the long peal, but Matt has already rung nearly 1,000 peals and conducted about one-half of them. The onerous task of conducting this record attempt fell on him and, as the peal progressed, the pressure surely intensified. However, as one of the coolest customers on the campanological circuit, few were better suited to take on this responsibility. Matt has a young family and balances his busy life as a Computing Development Officer at Exeter University with ringing and scuba diving.
2 - John Hughes-D'Aeth
John is a solicitor and partner at Berwin Leighton Paisner who divides his bellringing duties between his home tower at Little Milton in Oxfordshire and the rather more prestigious churches of Westminster Abbey and St Paul's Cathedral in London. A 54-year-old polymath, he combines interests in classical music, sport and wine with a demanding work schedule, but has still found time to ring over 1,500 peals and 14 long lengths. He has confessed to writing the contracts for repair and maintenance of most of England's motorways which surely singles him out as rather unique!
3 - Andrew Mills
One of several ringers who work in the trade, Andrew is a Director of John Taylor Bellfoundry in Loughborough and lives at Shelford in Nottinghamshire. He held the record for being the youngest person to ring 1,000 peals and is one of the most accomplished ringers of his generation. Now 48, Andrew has rung about 2,600 peals on bells ranging in weight from 4 pounds to 4 tons, including 24 long lengths. Andrew is a keen sportsman and aficionado of frightening roller coaster rides.
4 - Paul Mounsey
Now retired at the age of 61, Paul's home tower is St Paul's Cathedral in London; this is the campanological equivalent of owning property on Park Lane and Mayfair when you play Monopoly. As one of the most experienced and talented ringers in the country, particularly on twelve bells, he's amassed about 4,300 peals of which 36 have been longer than 10,000 changes. As a man who has done it all, he will cherish the longest peal on twelve bells amongst his many accomplishments. Some might be surprised to learn that Paul once played his violin at a concert in the Royal Albert Hall, but then talent expresses itself in all sorts of different ways!
5 - John Loveless
Having learnt at the age of 10 at Bures in Suffolk, John has been ringing bells for 50 years and his home tower is currently Campton in Bedfordshire. He has rung all over the UK and in Ireland, USA, Canada, South Africa, Australia and New Zealand, making him one of the world's most gregarious ringers. In the process he has clocked up more than 3,700 peals, of which 1000 have been on rings of twelve bells and 30 have been in excess of 10,000 changes. A man with a keen sense of bellringing tradition, John has served as the Master of the Society of Cambridge Youths and, more recently, the Society of Royal Cumberland Youths, both of which were founded in the 1700s.
6 - Martin Whiteley
Martin hails from Somerset and rang as a teenager in many towers in the Bath and Wells Diocese. Now living in Derby where he works as a geologist, Martin rings at Derby Cathedral and maintains a steady and interesting output of peals, such that he's now rung about 1,500 all over the country. As a 60-year old who should know better, he has an infectious enthusiasm for long peals on tower bells and has organised half of the 64 that he's rung to date. In his spare time, and to nobody's great surprise, Martin climbs mountains, does challenge walks and competes in triathlons!
7 - Roy LeMarechal
As a part-time bell hanger and bell service engineer Roy combines his work and bellringing hobby to the extent that he spends more time in church towers than most. He lives at Eastleigh and rings at Bishopstoke in Hampshire but has travelled all over the world to ring bells, completing nearly 3,000 peals and conducting about 60% of them. Roy is 62 years old and he has rung 25 long peals during the last four decades. On the few occasions that he's at home, Roy tends to the vineyard in his back garden and makes about 25 gallons of 'house red' every year.
8 - Paul Tiebout
Paul learned to ring in Liverpool but he's now based in London and works for the City of London Corporation. A member of the band at St Paul's Cathedral, London, Paul was the youngster in the South Petherton line-up at the age of 31. He has already rung nearly 600 peals, many of them on some very large bells. He is known for his physical durability and strong Liverpudlian accent that becomes increasingly incomprehensible during spells of alcoholic refreshment.
9 - Robin Hall
Robin lives in Oxford and rings locally at Christ Church Cathedral. He is an IT consultant and, now 47, has rung nearly 1,200 peals. Robin enjoys ringing peals that are mentally challenging and of his 14 long lengths a couple have involved learning more than 50 different and rather complicated methods, every one of which had to be recalled instantly. Robin and his young family recently spent two years living in Shanghai but he's now repatriated to leafy Oxfordshire and has picked up where he left off in the ringing firmament.
10 - Frank Rivett
Now retired after a career spent working on various aspects of software development for business systems, Frank lives in Bedfordshire and rings at Clifton. A man not averse to statistics, he has rung over 2,300 peals and spent the equivalent of 298 days doing so! This impressive total includes 30 long peals and, whilst he was the old man of the band at the age of 71, you'd put money on him being the last to quit. A measure of his tenacity was provided by his endurance walk from Land's End to John O'Groats in 2004 that took 70 days and raised £4K for charity.
11- Tom Griffiths
Tom lives in Warwickshire and his home tower is Brinklow. A 39-year-old land and building surveyor by profession, he has recently passed the milestone of 1,000 peals, most of which have been rung in the West Midlands. In 1988 he took part in a marathon effort that involved ringing three long peals in a 24-hour period, so his credentials for this attempt were impeccable. Few people know that his great uncle played the organ for the Royal Wedding when the Duke of Kent married Katharine Worsley in 1961 at York Minster!
Tenor - Michael Wilby
Michael lives and rings in Birmingham and he is a leading light in the local 12-bell band that has proved to be the most talented and successful in the country over the last decade. Now in his forties, he is a very experienced tenor ringer, particularly on higher numbers, and he was tasked with being in charge of the rhythm section in this peal. Michael's peal tally is around 1,150, of which 70% are on 12 or more bells. He is an IT Manager for the Big Lottery Fund and enjoys architectural and landscape photography in his spare time.
Looking ahead, by Martin Whiteley
The South Petherton peal was rather special. It was a record length that builds on the rich history of performance ringing and it attracted the attention of members of the public in a way that is rarely seen these days. We will explore why this was the case through a future article in the Ringing World. Locally, plans are in place to put a peal board in the Ringing Room and some form of plaque in the village, and the band is looking forward to returning next year to celebrate these events. As far as this peal is concerned, 'That's all' is proving to be far from the case.
Thanks, on behalf of the band …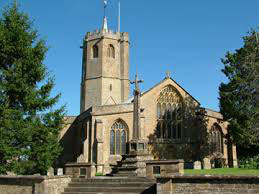 To Dave Purnell who first came up with the idea of ringing a record length at South Petherton and provided that essential link between us, the church and the local community.
To the Revd Tom Handy, members of the PCC, the local ringers, those villagers who kindly provided us with accommodation and everybody who turned out to support us.
To Matthew Higby (Matthew Higby & Co. Ltd., Church Bell Engineers) for checking all the fittings and replacing the clappers, and Becky Dunnett (Mendip Ropemakers Ltd.) for renewing the ropes. To David Hull who spent hours and hours crafting a highly innovative and bespoke composition for us.
To the umpires who gave up the better part of their day commuting to and from the tower and sitting in a rather chilly Ringing Room in order to monitor the progress of twelve uncommunicative ringers. What they perhaps didn't realise is how the passage of changing faces served to enliven our day, so we are doubly grateful for the role they played.
To Ian Avery, Pauline Champion and Paul Carless who agreed to be on stand-by and ring at short notice if required, and John Hughes D'Aeth who learned the composition, thereby providing us with reassurance that the peal would go ahead despite any eventuality.
Question Time – The Long Peal at South Petherton
John Loveless and Martin Whiteley write …
For over 40 years, at tea time on the fourth Saturday in June, the National 12 Bell Contest Trophy has been hoisted by the winning conductor, mostly (but not always – it just feels like it!) in recent years by Richard Grimmett on behalf of the Birmingham team. Thus a couple of dozen Brummies have grown accustomed to receiving the plaudits of several hundred fellow ringers. It is a well-deserved prize because they're a band of winners. Around twenty minutes of judged ringing on the day, preceded by hours of travelling and practice, not to mention qualifying from the eliminators, is what it takes. For many ringers, winning the 12 Bell Contest is as good as it gets.
On Saturday October 17th, 2015, after 14½ hours ringing, the longest peal on twelve bells, 21216 Cambridge Surprise Maximus, came round to thunderous applause and loud cheering from around 200 people in South Petherton church. Unlike the 12 Bell Contest, here the enthusiasts were not only ringers, but mainly parishioners and villagers who had congregated in growing numbers throughout the day. The band heard the celebrations from upstairs as they set their bells. Then, as each ringer tottered down into the church the cheering was revived. This was very special tribute and certainly a new experience for us.
In the weeks that have passed since the peal we have pondered on why it attracted so much attention locally, on BellBoard and on various forms of social media. Perhaps now is the time to answer some of the questions we have been asked about South Petherton in particular and long peals in general.
How did you go about organizing the peal?
The person who co-ordinated all the various strands (the manager, if you like) was Martin Whiteley. He has been organizing long peals for more than 30 years and his role is about creating the best possible chance of success. Martin is an endurance athlete who understands the art of the possible in human endeavour, whilst for much of his working career he's been responsible for managing multi-disciplinary teams. Doubtless he draws on both strands when organizing these peals. He is the key communicator with the local organiser and, later, with the band, who he selects.
Who else was involved with getting this off the ground?
Dave Purnell was the local contact. He has long-length pedigree since he rang in the existing record peal of Cambridge Surprise Maximus, 16368 at Birmingham Cathedral in 1965. It was his idea in the first place to link a long peal with sponsorship for local charitable causes, and here he had previous form. Back in 1980, having overseen the installation of the new twelve at Midsomer Norton, he arranged an attempt to beat the record length of Stedman Cinques. He had the backing of an enthusiastic Vicar and PCC and because the bells were very quiet outside, ringing all day wasn't an issue. As it happened, the peal was lost after 9 hours when a clapper broke, but all the pieces of the public relations jigsaw that he used then were recycled at South Petherton.
The critical element was local buy-in. Getting ringers and the church authorities on board is relatively straightforward because they understand what peal ringing is all about, but conveying this to the wider community is much more challenging. Dave used the simple expedient of dubbing the peal a 'world record event' which, depending on your definition, it was. More important, it's a simple strap-line that everybody understands – after all, who wouldn't want to be involved with a local world record-breaking event that raises money for good causes?
Dave organised a sponsorship coordination team that included the pillars of the community, invited businesses to provide equipment and expertise to film the proceedings and courted local media, particularly BBC West and HTV, to ensure that there was a big build-up to the event. It happens to be easier to do all this in a relatively small village where the church is central in every sense, and after a few months the attempt was being described as the 'happening of the year'.
Why do you think the villagers were so enthusiastic about something as arcane as a peal?
The publicity surrounding the peal translated it into something that was unique, interesting, beneficial and local. Non-ringers realized that something special was being attempted in their village, in their church and on their bells. They felt proud that South Petherton was being put on the map and, ironically, the loss of the first attempt in October 2014 simply reinforced the sense that this record was worth striving for. The following piece, written by non-ringer David James, appeared in the Parish Magazine shortly after the peal:
"Top Twelve Strike the Right Note"
As the marathon, world-record ring of 21,216 changes came to an end at 9.30pm on Saturday 17th October, the bated breath of scores of villagers roared out through South Petherton church in relief and admiration for this truly remarkable achievement which they had been able to follow on a large screen set between the aisles.
The unique order in which the bells were rung, known as Cambridge Maximus, lived up to its reputation for difficulty. The first attempt was lost after four hours, but the same band returned a year later and soon established and maintained a rhythm that carried the day with hardly a blister between them. The ringers filled the village with music and this world record will forever be associated with our parish church. Next year the ringers will return to unveil a commemorative plaque that will be placed in the tower .
Finding twelve highly experienced bellringers who were prepared to pull on a rope non-stop for 14 hours with the precision of Olympic oarsmen was not an easy task, and this record-breaking attempt took two years to arrange. Success or failure on the day depended on stamina, concentration and perhaps a bit of luck. Each ringer rang a specific bell for the duration of the peal, with no opportunity for a break; we are thrilled that they chose our bell.
How did you choose the band and conductor?
In one sense it's pretty simple because there aren't that many ringers who are willing and able to ring for this length of time. On the other hand, getting the band dynamics absolutely right is critical. There is no place for prima donnas or weak links. Having a conductor of high calibre and cool temperament is a prerequisite and Martin felt that there were distinct advantages in having the peal called from the treble. Look no further than Matt Hilling!
Why was the composition so complicated?
Matt specified what type of composition we required. David Hull then composed it. The entire band was invited to engage during the evolution of the composition and there was a strong feeling that a blend of the adventurous and routine was required. What Cambridge may lack in complexity is balanced by the challenge it presents to strike accurately, but much can be done to maintain interest with an innovative composition.
Don't the umpires get bored?
Having competent people to witness and umpire the whole peal is a requirement of the CCCBR Rules, so this is an important element. It can involve antisocial hours, driving a lot of miles just to listen to 1½ hours ringing, and so it may appear rather a Cinderella role. However, most umpires enjoy the experience and (fortunately) usually sign up quite willingly. For the band, the umpires' presence is very important as they mark the passage of time and help to segment what is a very long time period. We don't have time to think about what they might be writing about the ringing!
How did you prepare for 14½ hours ringing?
The band assembled in the tower at 8pm on the Friday night to adjust ropes, set up food stations and ring the first course of the peal. This was important because it meant that we are all there, physically and mentally – ready to go. Everybody stayed close to South Petherton overnight so that we could get a reasonably early night and make a prompt start in the morning. As a further example of village involvement, we were generously provided free accommodation for the first attempt. On the day most of us had a light breakfast – 6am is too early for a full English! We all prepared in slightly different ways, but the one common factor is minimal liquid intake. Typical breakfast fare includes any or all of; bananas, rice pudding, cereals, toast/jam, bacon butties and glucose tablets!
How do you manage the passage of time?
Most ringers will remember how long a quarter peal seemed in one's early days, and then, a bit later, maybe a peal. Well, this was a peal that, as always, had four quarters, each quarter effectively a peal length, which meant it was very, very long indeed. One inevitably segments the time to soften the task ahead, mentally ticking off key course ends, watching the progression of umpires or waiting for darkness to descend. We assiduously avoid clock-watching until towards the end.
What's different from ordinary peals is that psychologically we are geared up to ring all day. We've chosen to do this and there is a massive interdependency amongst the band that simply grows with time. There is some comfort in knowing that if you ache all over and can't feel your feet, then the rest of band is probably suffering with you.
Do you eat anything?
Most of us want the option of eating to be available, although of course food isn't essential because you can continue to function for days without eating if necessary. At South Petherton there was plenty of room between adjacent ropes, so an array of stools and chairs were strategically placed so that food items were 'grabbable'. Eating whilst ringing is decidedly tricky, particularly as the peal progresses. Everybody has to weigh up the benefit of eating against the possibility of a handling error and only the most adept (usually competent double-handlers) can eat with any great assurance. Tales of flying food stuff are not exaggerated and some Ringing Rooms are reminiscent of a kindergarten after a long peal. Popular food includes flapjacks, bananas, cherry tomatoes, mini scotch eggs, chocolate and glucose tablets.
Isn't drinking even harder?
Certainly and arguably it's more important, particularly if you're ringing a back bell and need to remain hydrated. Drinking vessels range from paper cups half-filled with water (usually disastrous) to cartons of fruit drink or 'camel-packs' suspended from a stand. You have to choose your moment carefully, and as Michael demonstrated with considerable panache, 11ths or 7ths place bells (which give three whole pulls without a dodge) maximises the swigging potential. Most of the band didn't drink during this peal and you accept that you're going to suffer from mild dehydration and a probable headache as a result.
Is there an optimal time of year for a long peal? Spring and autumn are best. It makes sense to avoid hot or cold times of the year unless this is unavoidable. Also, most towers were not designed with high quality ventilation in mind for enhanced 21st century bellringer comfort! Fortunately South Petherton has a large door in the Ringing Room that provides access to the nave roof and we kept this open for the duration. Had it been necessary we could have used the air conditioning as well.
I'm saving the most delicate question to last – what about going to the toilet?
We minimise liquid intake the night before the peal and some of us avoid all diuretic drinks for several days beforehand. It's also sensible to avoid rich or 'reactive' foods for 48 hours before the peal. Whilst psychological preparation goes a long way to helping you through a long peal the toilet issue is very practical and, as with eating, most of us prefer to take the precaution of being prepared. Wearing incontinence pants is very reassuring and other more sophisticated solutions have also been used. Surprisingly perhaps this aspect rarely causes a problem, suggesting that the link between mental and physical preparedness is stronger than we think.