From The Residents' Lounge......
First  published in the Ringing World, which has the copyright.  We are grateful to the Editor, Robert Lewis, and the author, AJB, for giving permission for it to be reprinted here.    AJB Rings at Studley in Warwickshire.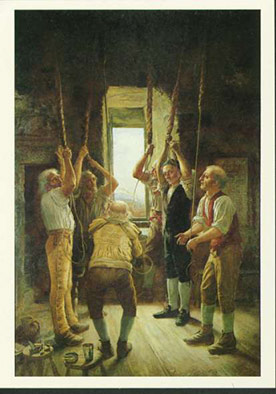 Tom:  I see that they have got that new national recruitment campaign started then.
Dick:  Indeed.  I gather that the video is all Bright Young Things dashing about and having fun.
Tom:  Not like in my day. Ringing was a serious matter.
Dick:  Yes, but the trouble is, unless we change the image of ringing in people's minds we will never recruit.  The youngsters think that ringing is all old folk trying to ring in the cold and gloom.
Harry:  Did you hear about the group of youngsters who thought that ringing was three old blokes sitting in the corner of the ringing room chewing ' baccy.  Then they saw the video of Youth, Light and Hope so turned up at their local practice?
Tom:  No, what happened?
Harry:  When they got there they found that the ringers had met short:  there were only two old blokes sitting in the corner chewing 'baccy.
Tom:  What made you take up ringing then, Harry, all those years ago?
Harry:  It was that bevy of young girls up the tower.  And the young girls went because there was a bunch of young lads.  I don't think it had anything to do with us wanting to ring Grandsire Triples with you two.
Tom:  Oh! look!  It's nine o'clock; time for cocoa.
Dick:  I'll fetch them.  Fancy a biscuit?