Richard Bowditch - The Bell Founder.
Dulcote Foundry
by Matthew Higby

I first met Richard in the mid 1980's when my father wanted some decorative castings made for a brass lantern clock which he was making. Having looked up "Mendip Alloys" in the yellow pages, we set off in search of the foundry, and eventually found Richard in the disused power house at Dulcote Quarry. Richard was a skilled foundryman who used sand moulds and floor moulding techniques to produce the most complicated of castings in aluminium, brass, bronze and cast iron. From exhaust manifolds to cast iron guttering, everything he made was produced with finite care and precision.
I remember Richard looking at the casting pattern which my father had made, and immediately recognising it as something which he had made before. He disappeared into the darkness at the back of his workshop and reappeared a few minutes later with a very similar casting pattern. I remember asking Richard if he had ever cast a bell, at which point he grinned and said "not yet, but I fancy having a go". It turned out that Richard was a lapsed ringer who had recently restarted ringing and trained a band at nearby Pilton. Richard was an excellent heavy bell ringer. He thoroughly enjoyed turning in Wells Cathedral tenor to Sunday afternoon quarter peals. Together we rang over a hundred quarters and a handful of peals.
Richard cast my first bell in 1989, an experiment in Gun Metal (we had no bell metal at the time). I hung the small 7lb bell, with my father's help, in the garage at home. Richard cast me several more bells and, with the engineering skills of David Marshall (the Midsomer Norton variety), we tuned them to the pitch of an old electric keyboard. My ring increased to five, then six and eventually eight in 1993. The mini-ring was an instant success, and I was asked to build rings for other people. With the help of David Bagley in 1993, we learned how to tune more accurately, and having been offered some scrap bell metal, we cast and tuned several other mini-rings. In 1995 we developed a more regulated set of casting patterns based on thick handbell shapes which produced a more musical and uniform sound and therefore formed the standard for future mini-rings which we produced.
In 1996 I formed my own engineering and bellhanging company, based around the production of mini-rings, school bells, small church bell restoration and maintenance. When new bells were required, I generally assisted Richard with the mould making. Richard then cast the bells and I machined and tuned them.
An interesting project came our way in 1998. We were asked to cast replica medieval bell for St Peter's Church, Pertwood in Wiltshire. H B Walters described the original Pertwood bell as one of the highlights of his bell hunting career, a beautiful long waisted bell cast in the 13th century, inscribed AVE MARIA +. Following the redundancy of St Peter's Pertwood, the bell was vested with Salisbury Museum. The Giles Family of Pertwood Manor, purchased and restored the Church to its former glory, however their attempts to restore the original bell to its turret were thwarted, as the church fell outside faculty jurisdiction.
Following lengthy negotiations, we were given permission to borrow the Pertwood bell, to enable us to make a replica. With the help of Jonathan Leslie of Lazarus, the upper part of the bell was cast in the lost wax process, with the lower part of the mould being made of sand. The two parts being weighted together. Following successful casting and some careful fettling, the end result was practically identical to the original (apart from lacking 700 years of patina!). Future bell hunters may well be fooled into thinking this bell is the original – however the casting date plus a small inscription was added to the inside! The original and the replica sounded almost identical.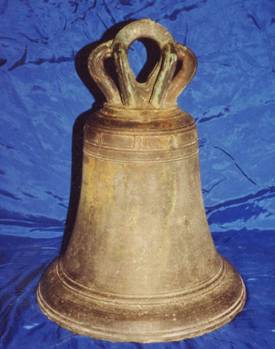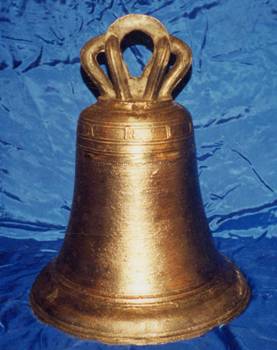 The original cast ¢1250 and the replica cast in 1998.

The success of the Pertwood bell led us to consider other replicas. Both Richard and myself always admired the work of Gillett & Johnson, and a chance opportunity came in 2004, when I was commissioned to restore the 1920 G&J chime of eight bells (Tenor 2cwt) at Kennerleigh in Devon. Whilst the bells were removed to allow the support steelwork to be replaced, Richard and I studied the profiles of the bells and took impressions of their shapes, to enable us to accurately reproduce the bells in fine detail. Richard cast himself an exact replica of the Kennerleigh octave. I managed to buy an old vertical turning lathe and rapidly, with the help of Bill Hibbert's tuning software, taught myself to harmonically tune bells. We later hung his new peal in the garage at Great Orchard (the beautiful home which he and Jackie had recently had built). We also produced a set of aluminium patterns to enable us to continue to cast G&J profile bells using a two-part sand mould process (we subsequently extended the range to cover over two octaves).
In all, Richard cast around 470 bells ranging from 6oz through to 2½cwt. Included in this total are seven peals of twelve, ten peals of ten, twenty three octaves and twelve peals of six. Many of these are privately owned, however we did cast a new peal of eight for St John the Baptist, Tolland in Somerset. We also completed church bell augmentations at Egloskerry in Cornwall, Hannington in Hampshire and St Agatha's Portsmouth.
Together we have cast, tuned and hung bells all over the UK and throughout the world. Our bells can be found in The Republic of Ireland, Germany, France, USA, Canada, The Solomon Islands, Portugal and Spain. The last three large bells which Richard cast were for a clock chime in Thetford, Norfolk. The casting quality of these bells was flawless in every respect.
When Richard told me of his diagnosis, he was adamant that the bellfounding should continue. Shortly afterwards Richard closed the Dulcote foundry and passed the furnaces onto colleague and fellow foundryman Mark Prior who runs a foundry near Yate. The bell patterns and specially made moulding boxes remain in my care. Richard subsequently oversaw the casting of several more bells with Mark and myself, to ensure that bell founding continued as he wished.  As I write we have orders for over 30 new bells to be cast this year.
There is little doubt that I owe my career in bellhanging to Richard. His boundless enthusiasm and endless skills were a true inspiration to all who knew him. With Richard's support, nothing was ever too difficult. His infectious smile will stay with me forever! A true gentleman, friend and colleague who will be sorely missed. Rest in Peace dear friend.
Matthew Higby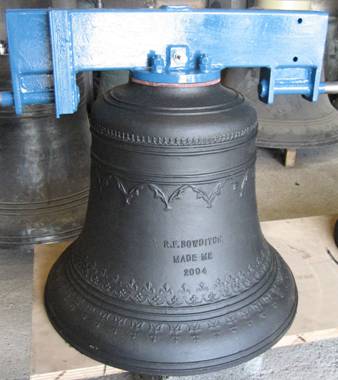 Great Orchard Tenor – an example of Richards skill.