Rope spiders
These days, many towers have a spider to draw the ropes up out of the way when they are not in use. Spiders come in all shapes and sizes – some are big and grand, while others are little more than a few hooks on a block of wood.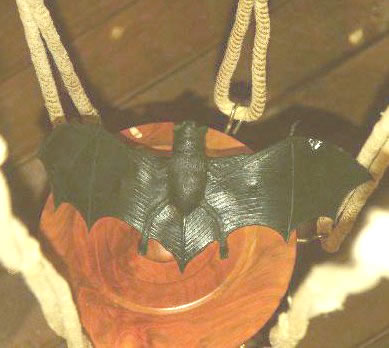 On this year's branch outing, the spider at one tower drew particular comment as 'several coat hangers and a door knob'. It was indeed made out of coat hangers, but they were formed into gracefully curved hooks, all carefully made to be the same. The door knob was an old fashioned metal one, rather inelegantly tacked on underneath to give it enough weight to come down when empty. Sadly I didn't think to take a picture of it at the time, so you will have to imagine it.

I took pictures of several spiders on the previous year's outing though. Bats seemed to be in fashion in the area we visited – several towers had a bat hanging underneath the rope spider, like the one shown here. Another tower had a more ingenious design, which I liked most. It had a lurid green spider sitting in the middle of a web beneath what would otherwise have been a rather utilitarian affair of wood and pot hooks.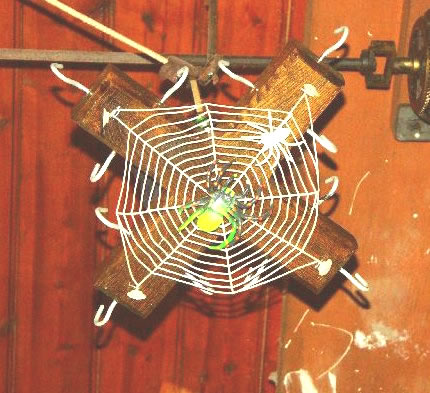 The spider at All Saints Wokingham is unique, but quite different in style from these, with no attempt to mimic nature. It is cast aluminium, and if you look closely at the surface, you can see a granular structure, which gives a clue to how it was cast. A model of the spider, made of expanded polystyrene, was packed in foundry sand, and liquid aluminium poured in. As soon as the molten metal made contact with the polystyrene it vaporised, leaving its imprint in the sand as the mould for the metal. If look carefully at the eight 'legs' and you might recognize the shape of the little curly pieces of polystyrene that are often used to fill the space around delicate objects.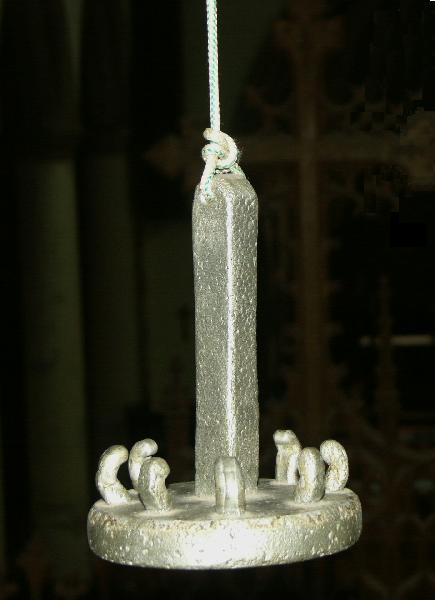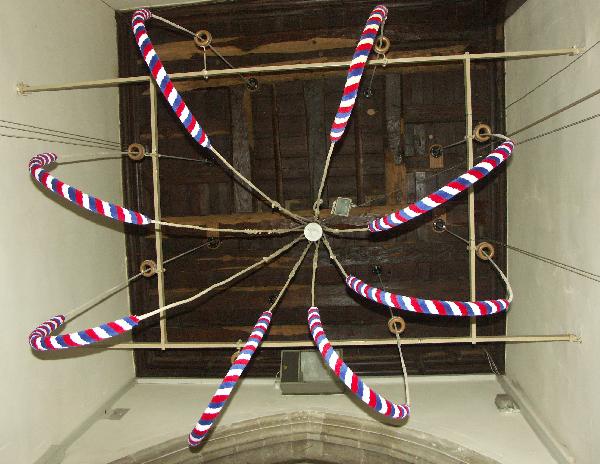 If you are interested in other metal casts, including the Branch striking competition trophies, see: jaharrison.me.uk/MetalSculpture/
The most dramatic view of this rope spider is from below, when it becomes a tiny body, with the eight sallies forming the legs of a giant spider.
Have you seen any interesting or unusual spiders on your travels?

John Harrison, March 2009