Seavington St Mary, Somerset
By Helen Beaufoy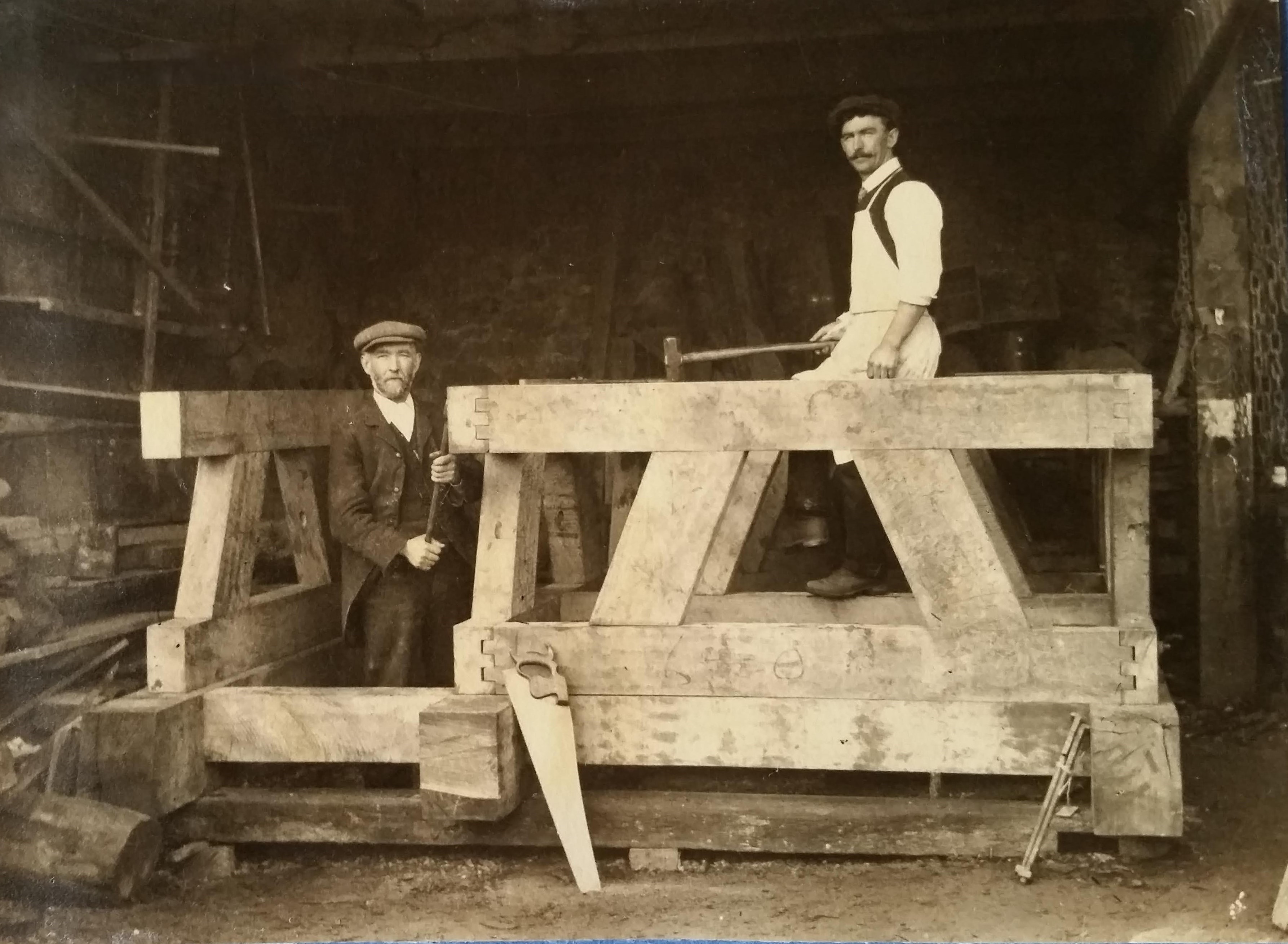 In 2022, a researcher named Phil Nichols was looking into the life of Sydney Vaux, of Seavington St Mary, and he discovered a hoard of old glass negatives in a barn in Hampshire.  In two suitcases there were 675 photographs!  They were all the work of Sydney Vaux and almost all were views of his home villages – Seavington St Mary and St Michael.  They were mostly from the period 1905 – 1915. 

The Vaux family were wheelwrights and carpenters and their work is well represented, together with all the rest of village life - the farms, the churches, thatchers, school children, builders, road repairers, gamekeepers etc. 

While Phil was in communication with the Vaux family, he was shown yet more photos by Sydney, including a picture of St Mary's bellframe under construction! It was thought that the photo was taken in the tower, but I was able to tell that the frame must have been first built in The Vaux's workshop, then disassembled and taken to the tower to be rebuilt there.  The workmanship is outstanding – just look at those joints!  No wonder this frame is still as good as the day it was installed.

I had known for a long time that the bells were hung by Thomas Doble of Taunton in 1906.  In my ignorance I had assumed that it was he who had built the frame.  Instead it seems that the Vaux family constructed it, presumably to Doble's design and measurements, and perhaps with his supervision, but Thomas Doble's name does not appear in the Vestry accounts, so perhaps he was subcontracted by Taylor's to hang the bells.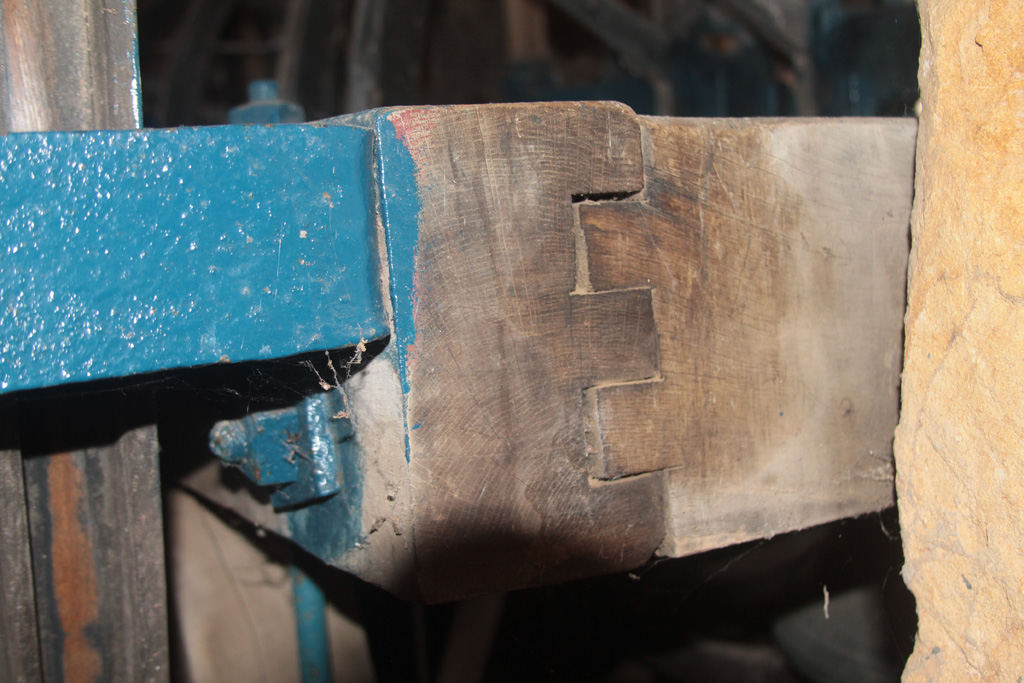 The accounts show that William Vaux was paid £13 for "making cage and putting in new floor etc"; that was mostly labour costs, together with some materials such as walnut and oak planks, less a generous discount, no doubt as William Vaux was the Parish Clerk.  There was another sum of nearly £18 to Thomas Penny of Taunton for "oak and beams for bell cage". The Vaux & Sons 'rough account book' (Somerset Heritage Centre, DD/X/VX/1) recorded that William, Sydney and Edgar Vaux charged for 638 hours work on this project between October-December 1906, mostly at 5d per hour.

I was puzzled by the purchase of walnut and oak planks, so I asked Gordon Rendell what he thought they were for.  He replied that the rope bosses could have been made of walnut.  We have been and had a look, and he thinks that that is probably correct.  (Of course, they are twenty feet up in the air, so it's hard to be definite about it.)  Although the ceiling of the ringing room is made of softwood, the supporting beams are oak.

Gordon comments, "In the photograph of the frame under construction, it is most noticeable how well these massive baulks of timber were fitting snugly together with the assistance of little more than a well-used hand saw. The joints on the corners of the frame are pulled together and held into place by a blacksmith's patent device bolted through both adjoining beams They never have and never will allow the joint to move; I think it's the most over-engineered frame for the weight of the bells I've ever seen".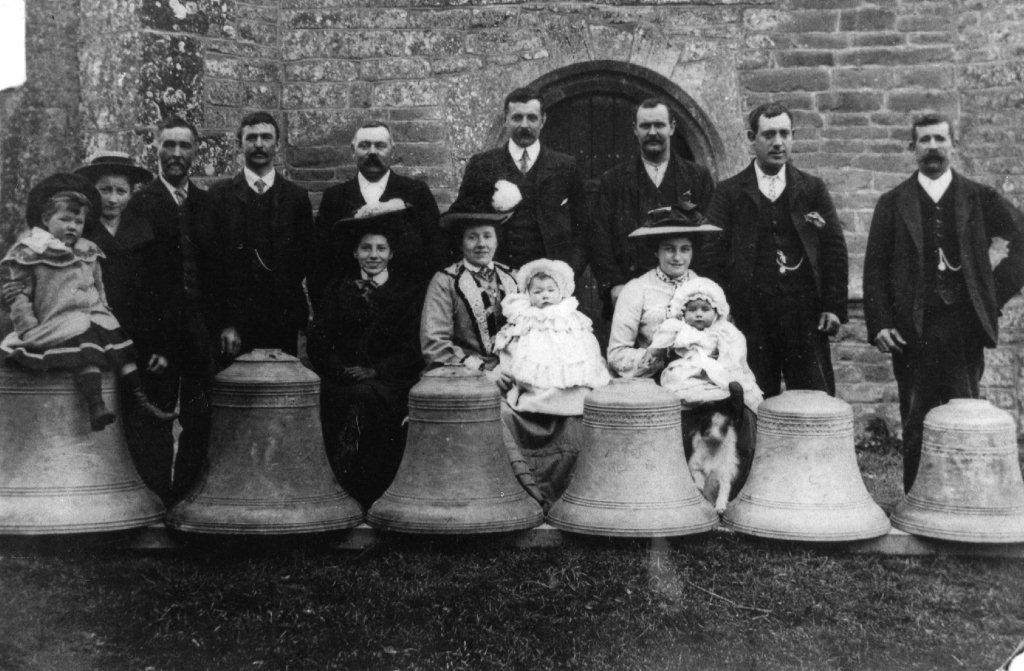 St Mary's is now in the care of The Churches Conservation Trust, and the bells are rung frequently.  Regular Quarter Peals are rung, and we have run many training days and teaching sessions.  Visiting bands are very welcome, and as the village has an excellent Community Cafe and shop, it is a great place for an outing.  The bells are a really easy going, 6 cwt six  – come and try them!
Helen Beaufoy  seavingtonstmary@bath-wells.org
Bellframe Photo: Sydney Vaux on the right of the picture, his father, William on the left.  By kind permission of Colin Male and Phil Nichols.
Modern Photo: The joints are still as good as new!  With thanks to Gordon Rendell
Old photo: Seavington ringers with their families. Men (left to right) : William Vaux, Sydney Vaux, Samuel Robert Jacobs, [middle two, i.e. the tallest - not known], Fred Tucker, Fred Scott
Ladies: the only one known is on the right, with a dog lying in front of her : Annie Tucker, with her infant Beatrice May Tucker (born 1906)