The Learning Curve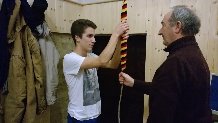 The Learning Curve is a series of articles which were mostly written by John Harrison. They were published once a month in The Ringing World between 1999 and 2007. They are available to buy from www.cccbr.org.uk/pubs/pricelist. They are in four volumes, which are very reasonably priced at £3.00 each.
Alternatively, you can download individual articles free, from www.cccbr.org.uk/education/thelearningcurve. You will find the complete collection there. They are available for anyone to use for teaching puposes.
In this section of www.treblesgoing.org.uk, we have included several of these articles for you to read. We hope you find them helpful, and will go on to look at the rest of the series.