The Restoration of the Bells of Thornford, Dorset.  2013/14
 by Nina Herbert
In April 2013, after months and months of fund raising we welcomed Taylors of Loughborough to start work on our church bells.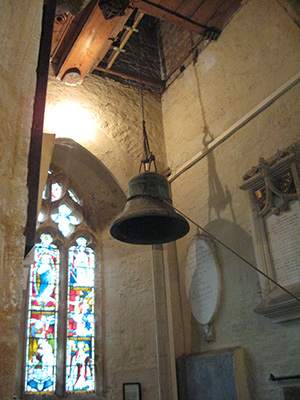 Tuesday, April 23rd two gentlemen arrived to start on a complete refurbishment of the bells. Their first task was to take the bells down so that they could be taken to Loughborough for repairs along with all the fittings and fixtures. This proved more difficult than usual as the room below the bells had been given a new floor since 1908 when the bells were last taken out. Thus a new opening was made in the floor.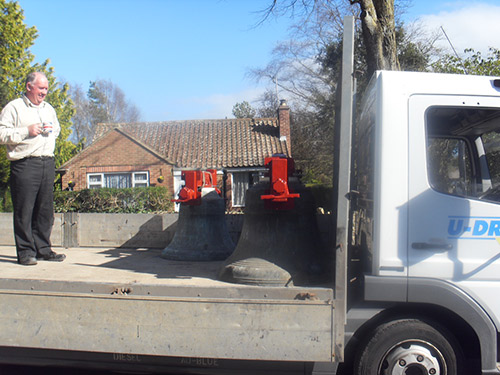 Once completed we watched the bells being carefully lowered through the hole. The tenor bell having to come through at an angle. Once the bells were down they were followed by wheels, clappers and all the other bits and pieces. This was all watched by adults and children. We had no idea that so many people in the village were interested in the Bells. All of this was well photographed.
We had arranged with Tim Collins from Bradford Peverell to hire a van which he would drive up to Loughborough. This arrived on time as did the tractor that was going to carry the bells from the gate to the church grounds and down the road to the van. Next started the chain of bell ringing equipment down the path to the van, obviously the bells were the most difficult and had to be put onto a trolley to be wheeled to the gate. When all the bits and pieces plus the clappers from Yetminster had been stowed on board the van Tim drove off ready to start the journey to Loughborough  at 5am. with Trevor from Thornford on board as well.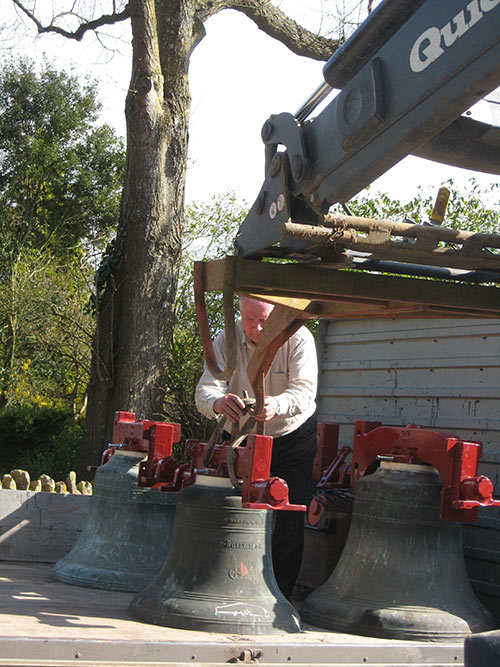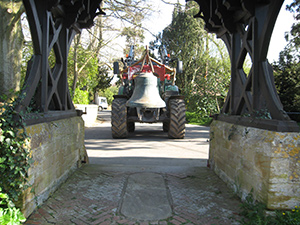 The return of the bells took place during to second week of May. Tim and Trevor bringing all the bells back on the hired van. There were not as many people to watch the return but great anticipation on the Bell ringers part as to what the bells would sound like and how easy they would be to ring. All the refitting took place and the time came to find out how the would sound. It was unbelievable . Next came the actual ringing of the bells. No more  pulling hard just a gentle little pull. No more "where will the rope come down?"!  It was wonderful. How the ringers had struggled with the bells for years, I don't know. I had only struggled for 7 years which was quite long enough!