The Vienna Glockenmuseum.
(10th District, 70 Senenfeldergasse) by Roger Fox
Roger and Jenny Fox planned a two week cycling trip along the Danube Cycleway through Bavaria and Austria in the second half of October. A combination of broken spokes, slight problems with a knee, and eventually the weather, reduced the ride to about 200 miles but meant we spent 3 days in Vienna. Whilst Jenny does not ring she is always supportive of Roger's interests in bells and ringing, and so it was that she noticed a reference to a bell museum in Vienna.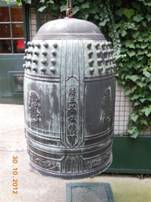 We made contact by phone and arranged a viewing. This establishment had once been a bell foundry, but now houses a collection of mainly historic bells from mainland Europe. A charming elderly gentleman (Josef Pfundner) was pleased to show us round. The foundry had belonged to his grandfather who was often asked to break up damaged bells and cast replacements from the metal. He preferred to retain interesting bells for his collection, casting brand new bells for the customer. However since the end of the first world war, in Austria at any rate, any bell hung in a church is to be retained as an historic monument.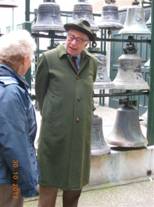 The collection held at least 76 bells including one from Japan (dated 1832) but the oldest from Hungary was cast in 1242. They were mainly relatively light bells say from 1 to 7 cwt. Herr Pfundner gave us a catalogue which he had published. He himself had pursued a career in car manufacture, following a year or so in Cambridge after the second world war, having been a director of British Leyland, and in his retirement was writing a history of the automotive industry.
Whilst the foundry had been closed for many years he had maintained the premises and was well acquainted with the present European Bellfounders including Taylors and Whitechapel. The very long bell in one of the photos is from around 1330 and bears a latin inscription MAGIST LUCAS DE VENECIIS ME FECIT and is 59kg, 34.5 cm in diameter.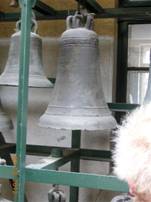 Much of the damage to the old bells was caused by the leather baldricks (straps) which held the clappers to the crown staple becoming longer with wear which meant the clapper struck a much thinner part of the bell nearer the lip. In the past, tuning was apparently less important in single bells for clocks since they did not have to blend with others (at least I think that was what we were told, when I asked about how it was done!). Our visit concluded with our host pressing a button, which produced the best rendering of the Westminster (Cambridge) chimes which he could manage.

Photos: Japanse Bell 5cwt; Herr Pfundner talking to Jenny; and the 1330 bell.