The Ringers' War Memorial
By Michael Amphlett


Were you aware that the Bath & Wells Association of Church Bellringers has a War Memorial in Bath Abbey, just the other side of the door in the NE porch, commemorating those members who fell in the war? As our Practice was on Monday 11th November in 2013, the Bath Band arranged to have the memorial available for viewing before the practice for any Association members who wanted to see it.
 The names on the 1st World War Memorial are:  S.Ball, W.Bennett, H.Brock, A.Budd, W.Butler, G.Bye, W.Caple, A. Case, E.Chivers, S.Chivers, A.E.Coles, W. Comer. R.Cox, B.Cullen, I.G.Day, H.Doble, G. Drew, B.F.Dunford, Everett, Fisher, L.Fisher, H.Ford, G.Fountain, C.V. Fry, W.Fudge, A.Gould, S.R.Ham, A.Harris, J.V.M.Hodges, C.James, R.Jarvis, J.Loxton, A.Major, A.C.Marden, F.Marsh, F.Norman, J.Odey, V.Partridge, W.Perry, S.Philips, T.Pope, T.Price, G.Ralph, A.E.Seers, H.Stevens,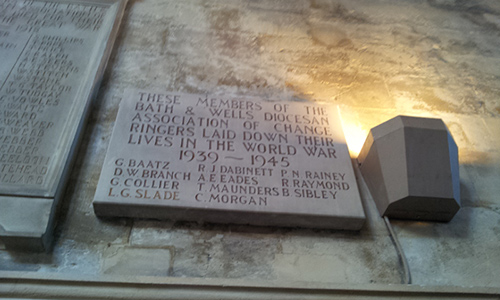 W.Stitch, W.Stone, T.G.Taylor, W.Tudgay, C.Vowles, S.Waite, T.Ward, W.Weaver, W.B.Webb, A.Webber, H.Webber, P.W.Wheeldon, B.Whitehead, W.Woollard.
The names on the 2nd World War Memorial are: G. Baatz, D.W.Branch, G.Collier, L.G.Slade, R.J.Dabinett, A.E.Eades, T.Maunders, C.Morgan, P.N.Rainey, R.Raymond, B.Sibley.