Who's Who in Ringing
by Pearl Jeanes and Tom Harris
It became apparent at a recent learners' morning that the presence of an official structure to the "exercise" remains a complete and utter mystery to the majority of beginners. Until, that is, light, often slightly blurred, gradually begins to dawn from casual conversation amongst fellow ringers. Maybe this topic should be a part of the introduction of novices at the start of their careers in ringing?

In an attempt to set this question straight, what follows is a potted version of how activities are organised, solely for the benefit of those few learners and any others who may be blissfully unaware of the administrative structure that really lies behind all that we do. Most beginners probably feel at the start as I did, that you just turn up at your local parish church, pull a rope and hope. Well, here's another version of the truth, starting at the 'bottom' with what you might most readily recognise at the very outset of learning to ring.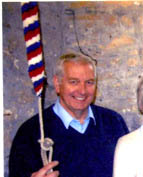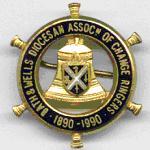 In 'your' tower there's probably a 'Tower Captain', a person who organises practices, ringers for weddings and other services and visiting ringers, but who also looks after the quite considerable
maintenance of the bells, wheels and all that goes with those, ropes, pulleys, frames and the tower in general. He or she may also be the one who performs most of the basic teaching, though this is often in combination with a very expert ringer, so more of that later. This person is also usually responsible to the Church PCC for tower matters and finances and representing the views of the ringers to the Rector or Vicar. It is the Rector who actually 'owns' the bells and can, though in practice usually doesn't, dictate when, and what, ringing takes place.
The Tower Captain will inevitably, like many of the other ringers in the tower, though not compulsory, be an elected member of our Bath & Wells Diocesan Association of Change Ringers, B&WDACR. The Diocese, for which you can roughly read Somerset County, has some 280 or so towers or churches as 'members.' These towers are divided, roughly into geographical areas of 11 branches, with which most ringers generally more readily identify, ours being the Taunton Branch. There are 51 towers represented in this branch.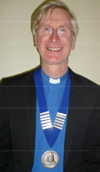 Both the Association and each branch have an administrative structure, broadly of the normal format chairman, secretary, treasurer and so on.
The Association though, being a very august body, also has an elected ceremonial president and vice-presidents, generally eminently clerical and honorary roles. The running of this body is conducted by a chairman, called the 'Master', served by the usual committee structure, and which also includes specialists such as tower and bell advisory experts.

Each Branch of the Association is a more or less autonomous body in that there are few rigorously applied rules or regulations about what should or should not happen, bearing in mind that everyone is a 'volunteer' and could 'vote with their feet' if unhappy. This doesn't mean to say there are no rules, but by and large the touch is necessarily gentle. The administrative officers of the branch are responsible to the Association for the proper running of the branch, holding an AGM as above and compliance with the law as laid down by parliament, such as DBS checks, the old CRB, and compliance with the Data Protection Act, the former also generally supervised by each PCC too. When it comes to teaching, training and ringing publications and publicity however, events take a turn in a different direction.



A body called the Central Council of Church Bell Ringers, CCCBR, is the representative body for all who ring bells in the English tradition. Founded in 1891, the Council today represents 65 affiliated societies, which cover all parts of the British Isles as well as centres of ringing in Australia, New Zealand, Canada, the USA, South Africa and Italy. These societies in turn comprise the members of the local Associations of ringers in their areas.
The objective of the Central Council, in their own words, is - to promote and foster the ringing of bells for Christian prayer, worship and celebration. Its roles are also - to promote awareness of and educate the general public in the ringing of church bells and the art of change ringing; to make available advice, assistance and information tochurch authorities, ringers and ringing societies and to promote good practice on all matters concerned with bells and bell ringing; to encourage development of the art of ringing through innovation; to bring together ringers to discuss matters of common interest and to represent ringers both nationally and internationally; to encourage high standards of performance in ringing; to recommend technical standards in change ringing and maintain such records as may be necessary to uphold these standards, and also to assist in the provision, restoration, maintenance and transfer of church bells

.
www.treblesgoing.org.uk is very grateful to the Central Council for allowing us to include some of the material from their webiste. There is plenty more to see at www.cccbr.org.uk
In recent years the CCCBR have produced a new structured format for teaching, called the Integrated Teacher Training Scheme (ITTS) similar in essence to the teaching format which has already been running for some years in Somerset.

Established in 2012, the Association of Ringing Teachers (ART) developed the scheme, 'Learning The Ropes' (LTR) the structured progression for novices. This will be apparent to learners who have more recently attended courses organised by our Education Officer, Pearl, and run by our branch Ringing Master, Jill. This gives an evidence-based approach to the teaching of bell ringing from the very basics up. While not without its critics of detail, this is arguably the best scheme devised so far.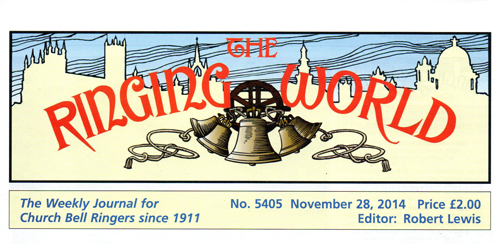 Finally, there's a ringers' weekly magazine called The Ringing World. Do get your Tower Captain or other friendly colleague to find a copy for you to read. It may seem on the surface to be a bit advanced and specialised, but always has some very interesting and informative articles to read. It's well worth getting organised and arranging a regular tower copy. Some PCC's may even be willing to fund a yearly subscription; mine does. Now there's an offer you cannot refuse to pursue. The annual subscription, including postal delivery every Friday morning, is £62 if paid by direct debit. Contact admin@ringingworld.co.uk to enquire.